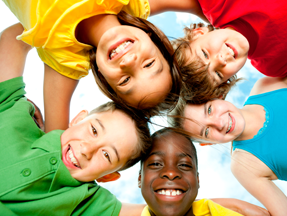 Experience a great start and finish to every school day.
We offer school-age children a perfect mix of recreation and education.
Every morning, we prepare your child for a great day at school, with a healthy breakfast and some stimulating activities to get them ready to learn. After school, we're there to help them study and give them a chance to unwind and play with friends. They get:

Homework time
Fun, educational experiences
Healthy breakfasts and snacks
We also offer additional opportunities for your school-age child during school breaks, holidays, and summer vacation. And we offer transportation to and from New Albany Schools.
Our exceptional before and after-school program combines guidance and security with independent exploration to give school age children the freedom and structure they need. They're inventive, so we encourage dramatic play and arts and crafts. They're adventurous, so we plan field trips, games and cooperate in community projects. They're building social skills, so our teachers promote activities that foster teamwork. And they're unique, so each student's needs are considered, from help with homework to a quiet place to read. It's a safe, secure place where your child will have fun and you'll have peace of mind.